DLSS is short for "Deep Learning Super Sampling". It is a performance booster made by Nvidia that upscales the rendered frames in video games and uses Artificial Intelligence to bring the sharpness of the upscaled image closer to the image you would get at native resolution. Resolution scaling is not a new method that game developers use to improve performance in their games, but Nvidia has managed to improve upon this technology by implementing AI sharpening to reduce the quality drop brought by resolution scaling.
DLSS Supported GPUs and its Generations
At the moment of writing, the RTX 20 series, 30 series, Titan RTX, and the upcoming 40 series support DLSS. Among these cards, RTX 20 series cards and Titan RTX support DLSS 1.0, and RTX 30 series cards support DLSS 2.0. The upcoming RTX 40 series cards will support DLSS 3.0. DLSS 1.0, the original is available in fewer games and is less efficient than DLSS 2.0. But even after that, it does improve performance by a good amount, maybe seventy-five to a hundred percent. DLSS 2.0 is reported to squeeze out two to three times more frames every second compared to native resolution. These are impressive numbers if you think about it. In our tests, Cyberpunk 2077's FPS jumped from 30-35 to almost 60 with DLSS 1.0.
DLSS Supported Games
DLSS is a feature that has to be implemented by the game developers themselves. As such not all games support DLSS. This page on Nvidia's site contains information regarding all the games and programs that support RTX technology, and that includes information regarding DLSS. So, if you are confused about a program supporting DLSS, this might be a good place to look.
How DLSS Works
Nvidia's site states,
"DLSS uses the power of NVIDIA's supercomputers to train and regularly improve its AI model. The latest models are delivered to your GeForce RTX PC through Game Ready Drivers. Tensor Cores then use their teraflops of dedicated AI horsepower to run the DLSS AI network in real time. This means you get the power of the DLSS supercomputer network to help you boost performance and resolution. And it gets even better over time."
This is an example of deep learning. If you have ever done some digging about Artificial Intelligence, you should be familiar with the term. Deep learning is a process through which an AI can replicate a human being's knowledge learning process. In other words, deep learning allows AI to "learn" as human beings do.
In the context of DLSS, deep learning is used to train the AI to upscale lower-resolution images to a higher resolution without sacrificing too much quality. The pieces of hardware that limit DLSS to RTX cards are Tensor Cores. These are the cores responsible for all RTX features of an RTX card.
For DLSS 1.0, Nvidia trained the AI by showing the neural network thousands of screenshots of a game with 64x super-sample anti-aliasing and also screenshots without any sort of anti-aliasing. The AI network then compared the images and did the process over and over again to formulate an algorithm to "approximate the quality" of the 64x super-sampled pixels without sacrificing too much quality. Nvidia used a type of "conventional auto-encoder" with NGX to accomplish this. According to Nvidia's words, DLSS uses "temporal feedback techniques" to preserve sharpness and stability.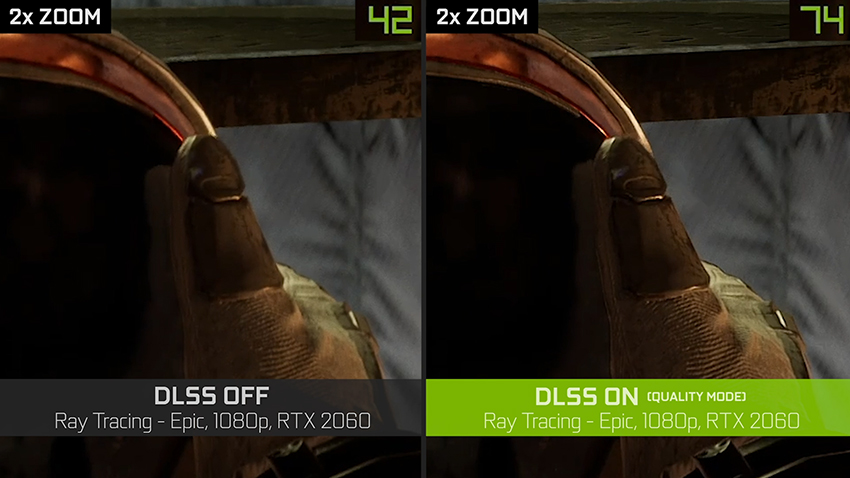 DLSS 2.0 uses an updated neural network that manages to use the tensor cores more efficiently. The training process is also more intensive, thanks to the involvement of reference images rendered offline in 16k resolution (15360 x 8640). Naturally, DLSS 2.0 is a lot more efficient compared to DLSS 1.0.
What DLSS 3.0 will be bringing new to the table this time around, is that it will deal with entire frames. Not pixels. According to Nvidia, it will be 3-4 times faster than DLSS 2.0. In Nvidia's benchmarks, DLSS 3.0 managed to spike performance from around 20 frames per second to 90-100. In Microsoft Flight Simulator, the FPS went up to around 130 from 60-70. These are impressive numbers if you think about it.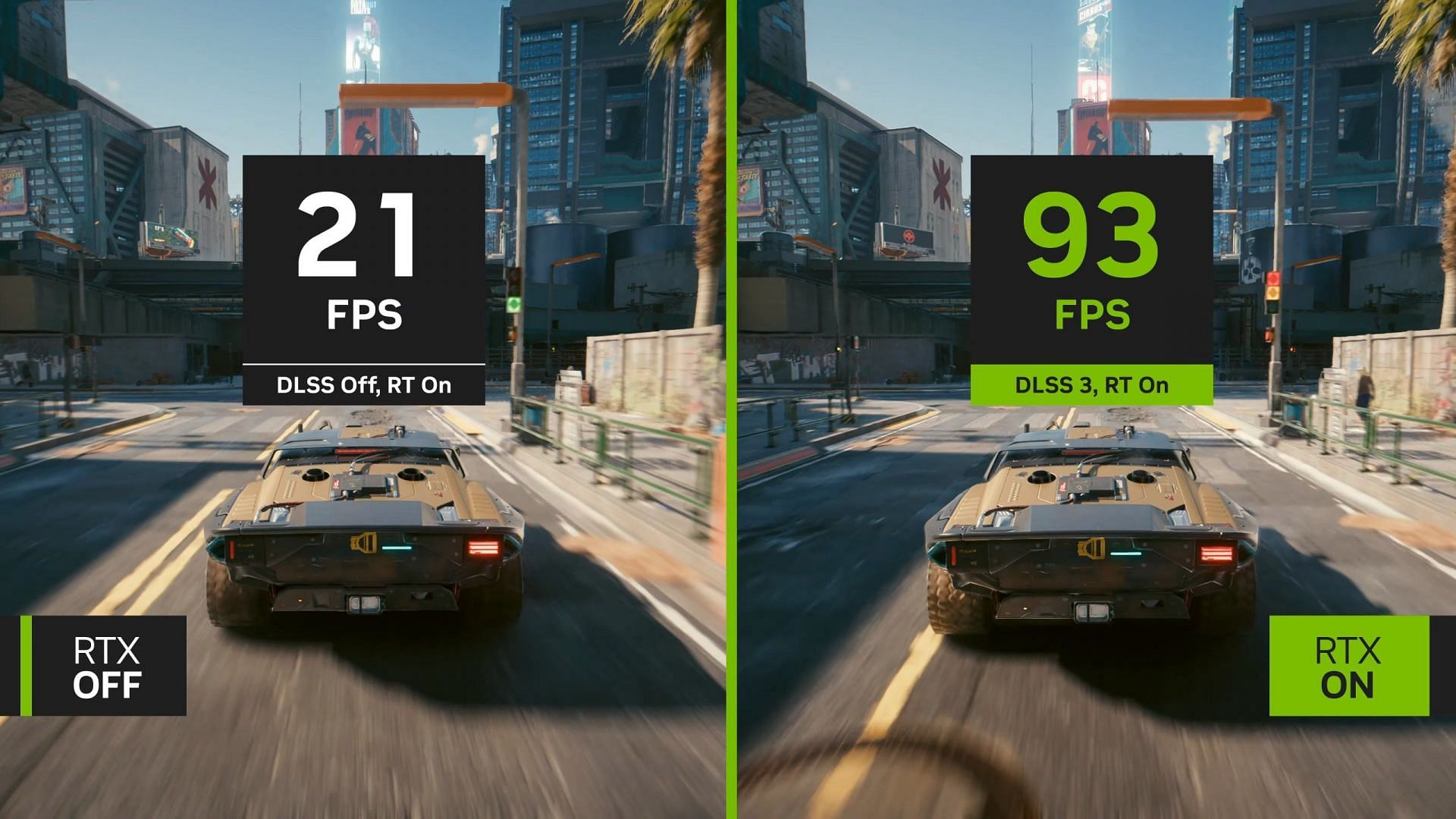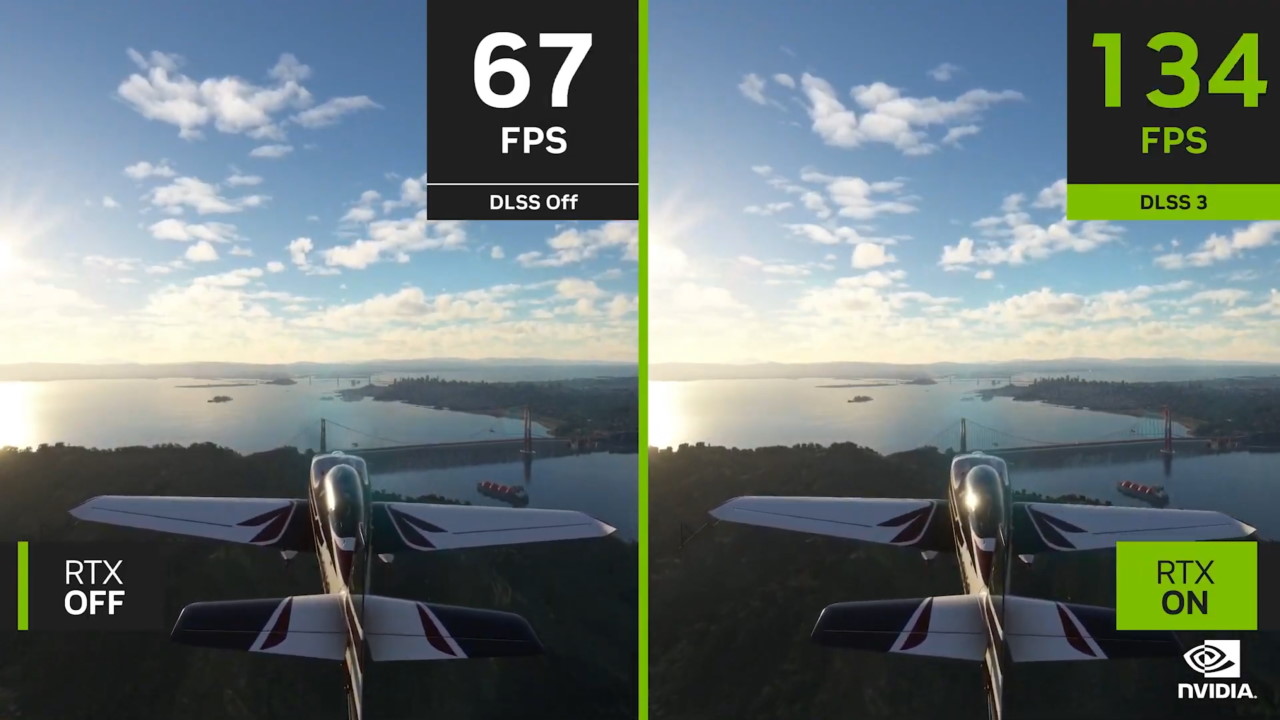 Although DLSS blurs out the image and reduces the quality a bit, it is good for the people who want to experience higher frame rates without experiencing too much of a quality drop. We are hopeful that DLSS will improve over time.